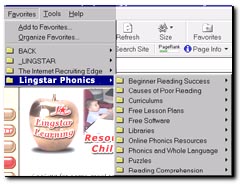 Special Pre Launch Offer! AThe Internet is wealthy in resources for just about anything and everything (if you know where to look). Prior to researching learning materials for my children, I became a noted authority on Internet research (and taught thousands of recruiters and employers how to save big bucks when searching for hidden resumes online).
Now I've focused that ability towards helping your child learn. The Lingstar Learning Phonics Resource Map is a categorized collection of 100s of resources you can use to research the best possible information for your own child's reading program.
Once you import them into your own browser, you'll have directly at your fingertips sites that include:
Free phonics software
Free lesson plans
Causes of poor reading and how to fix that
Curriculums
Free Online Libraries
Phonics and whole language resources
Reading Comprehension
More!
Certainly you can take the hours required to research the above material yourself...but think of how much time you'll save that you can use to teach your child instead!
SPECIAL PRE-LAUNCH OFFER!
I'm currently in the process of compiling and categorizing the above resources online. When it's finally available, the price will be anywhere from $19.97 to $24.97. But if you reserve your copy today, you can save 50% more and invest only $9.99!
I've been creating such research tools now for 4 years. No matter what you want to learn regarding phonics, I'll bet that you'll find it in the above material.
YES! I want to take advantage of the special pre-launch offer!