Learning should not be only a rote drill. Sometimes, you can use some great challenge games to help fire those neurons and enhance your child's comprehension of the material.
Does your child have a love of building and trains? If so, check out the Home of Toy Wooden Train Table Plans - you can get a free car drawing there as well.
Want more ideas? One of the games my daughter loves is chess. As a merchant, I've come across some high-quality sets for a remarkably low price, such as the clear and frosted set you see below.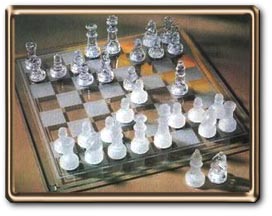 As a treat for my children, whenever they finish their work well, we'll take out the Champion Chess (as we call it) to play a game or two. It makes them feel like they've earned a reward.
Both sets come with:
Beveled Edge Glass Chess Board
16 Clear Glass Chess-Men

16 Frosted Glass Chess-Men

Felt-padded corners

King is 3" tall in the 14" set!

Handled Carrying Box
You can order these sets from me for only $16.77 + $7 S/H! (1 week shipping) That's the 10"x10" - the 14"x14" is only $30 + $7 S/H .